Quality and process management
For us and our customers, the very best is just good enough. We feel committed to the highest standards in product and process quality. Our development, manufacturing processes and material selection not only consider national but also international guidelines and quality requirements of the automotive industry.
Quality management at etm:
Certification according to DIN ISO TS 16949
TQM: Total quality management
Kaizen (Japanese: "Change for better")
CIP: Continuous improvement process
We are certified according to the ISO/ TS 16949 standard. This standard combines the requirements of all automotive manufacturers in North America and Europe, the members of the International Automotive Task Force (IATF). At the same time, we apply quality management systems from the Asian market: Pursuant to the Japanese Kaizen as well as CIP, we are continuously improving our quality, reinforcing our compatibility in small successful steps and optimising our product, process and service quality.
In terms of TQM, the model of success of the automotive industry, every individual employee at etm contributes to perfecting the processes and results in all areas. We document, check and improve our activities in all fields to create processes guaranteeing sustainable quality.
Our newly defined company processes are especially designed to offer our customers the best time-price-performance ratio. For quality assurance in development and manufacturing, we have created our internal project profit line (PPL). With optimum results: Our customers benefit from perfection and extension of the product life cycle.
 Product ideas and initial prototypes are checked by our etm development team in our internal laboratory and measuring facility.
Amongst others, we carry out pressure threshold tests, engine motion simulations, climate cycle tests and differential pressure tests. Common processes for quality assurance for raw materials, mixtures and finished components are available: This way, we can determine the perfect material composition and the ideal shape for any component. During the product life cycle, we also conduct testing for initial proving, series testing and requalification reviews.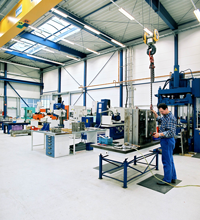 Our fully equipped die engineering department is able to produce all kinds of dies from small dies to large compound dies. Depending on the order, we cooperate with design experts in the field of die development. We are able to quickly and flexibly adapt to any situation or customer request.
Additionally, we provide quick on-site repair of injection moulding equipment, dies and other equipment. This way, defined project deadlines can be met and costs minimised.